Lookin' for badass dogs? You've come to the wrong place, hombre. Just messin', you're actually in the right place! Welcome to BadassDogs.com, the world wide web's #1 home for dogs that DGAF (don't go and fetch!) Here's our current ranking of totally tough, badass dogs.
Ace: The Night-Vision Dog
Have mercy! Wouldn't wanna run into him in a dark alley. But that'd actually be perfect for him, because he can see in the dark! I guess you could assume that from the title? Yup, Ace wears these killer night vision goggles 24/7. The interesting thing is, during the daytime, the goggles flood his eyes with light, effectively blinding him. Right now, Ace is totally helpless! But we couldn't take the photo with the lights off, so we had to compromise. Oh wait, I'm clearly talking too much. Sorry, my bad. 
Hector: The Crime-Fighting Dog
Go, Hector, go! Hector's not just any dog… he's officially enlisted with the US Marines, hoo-rah! Unfortunately, Hector loves taking down the bad guys so much that he often jumps from moving cars. He's been in the emergency room numerous times… he just never learns! But you gotta give him credit for lovin' to fight so much that he almost dies a lot, and never really gets to the fight anyway. Maybe he's just dumb? I love Hector!
Breeze: The High-Flying Dog
It's a bird! It's a plane! No… it's Breeze, the flyin' dog! Just look at him go. Breeze loves to skydive, just as long as he's been given his "medicine" (powerful sedatives) and blackout goggles (terror reduction). Also he needs to be totally immobilized, as seen above. But once that nonsense is done, Breeze is just all like, "Geronimo!" What a dog. I would totally steal him if I knew where he lived, but nobody tells me.   
Esmerelda: The Mind-Reading Dog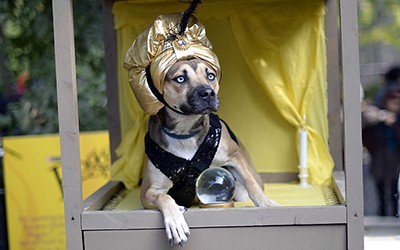 We all wish we could read our dogs' minds sometimes. Well, this dog can read yours! Meet Esmerelda, the dog with a powerful connection to a man's deepest secrets. One lick of your face, and your darkest deeds belong to her! For this reason, I wear a hat made of sheet metal around Esmerelda. She is a menace and must be stopped. I've done some terrible things in my time, and I'll be god damned if she spills the beans. Perhaps I will email her… maybe we can work out a deal…
Air Bud: The Sport-Playing Dog
When it comes to bad-ass dogs, there is no more better dog at being great than Air Bud. He cares not for the rule-book, only for the touch-down! My associates try and tell me that this dog is fictional, but I have seen several documentaries about this dog, including Air Bud: Seventh Inning Fetch and Air Bud Spikes Back. The dog does amazing things. His children, however, are spoiled brats.
I hate to say it, but The Air Buddies seem to think they can play whatever professional sport they so choose, without regard for practice or skill. Such is the curse of the second-generation athlete. They lived a charmed life, raised in the shadow of their superstar father.
Now, I do give the Air Buddies credit for rescuing Santa Claus. But on how much air can one good deed coast? And it's not like I wouldn't have saved Santa, it's just that nobody asked me. Anyway, I hope these dogs go to the pound!
That's all for today's update! Come back again for some more terrifying dogs! 
The Higgs Weldon is a humor website with funny articles, cartoons, and one liners. It was started by the Los Angeles stand-up comedy community, but takes submissions from everybody. Please read and enjoy our jokes!